The Wearable AI market is set for a remarkable future, fueled by a combination of technological advancements and shifting consumer preferences. As AI algorithms become more sophisticated and miniaturization continues to shrink the size of wearable devices, we can expect a surge in demand for intelligent wearables across various sectors. From smartwatches that provide personalized health insights to augmented reality glasses that enhance our digital experiences, wearable AI is poised to revolutionize how we interact with technology on a daily basis.
One key driver of the Wearable AI market's growth is the increasing focus on health and wellness. As individuals become more conscious of their well-being, they seek wearable devices that offer advanced fitness tracking, sleep monitoring, stress management, and real-time health data analysis. This trend presents immense opportunities for businesses to develop innovative wearables that cater to specific health needs, provide actionable insights, and empower users to make informed decisions about their lifestyles. Moreover, industries such as healthcare, sports, and manufacturing are also integrating wearable AI solutions to enhance productivity, safety, and efficiency, further expanding the market's potential.
According to Fact.MR, The global wearable AI market is valued at US$ 20 billion in 2023 and is anticipated to jump to US$ 230 billion by 2033, surging ahead at a CAGR of 27.6% during the forecast period (2023 to 2033).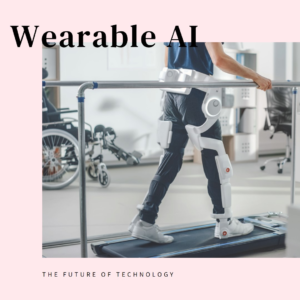 In this modern era of technological advancements, AI wearable devices have emerged as game-changers, revolutionizing how we interact with technology and enhancing our daily lives. To fully unlock the potential of these remarkable devices, a comprehensive guide is essential.
Introducing "Unleashing the Power of AI Wearable Devices: A Comprehensive Guide to Harnessing Their Full Potential," a comprehensive resource that provides step-by-step instructions, tips, and best practices on effectively utilizing AI wearable devices.
Whether you're a tech enthusiast, a health-conscious individual, or a business professional seeking to leverage these devices for enhanced productivity, this guide equips you with the knowledge and expertise to maximize the benefits of AI wearables.
From initial setup and device customization to advanced features, data analysis, and integrating AI wearables into your daily routines, this guide covers it all.
Discover how to monitor your fitness, track your health metrics, optimize sleep patterns, manage stress levels, and unlock a wealth of personalized insights through AI algorithms and machine learning.
Furthermore, businesses and entrepreneurs can explore the potential of AI wearables in various industries, harnessing the data-driven power of these devices for improved decision-making, employee well-being, and customer experiences.
Whether you're a beginner or a seasoned user, "Unleashing the Power of AI Wearable Devices" is your ultimate guide to mastering these cutting-edge technologies and unlocking their full potential. Get ready to embark on a transformative journey of enhanced connectivity, personalization, and productivity.
AI Wearable Devices
AI wearable devices are a remarkable fusion of artificial intelligence and wearable technology, paving the way for a new era of personalized and intelligent experiences. These devices leverage AI algorithms and machine learning to analyze data, make predictions, and deliver customized functionalities. Let's explore some exciting AI wearable devices that are shaping the future.
 Smartwatches and Fitness Trackers: Smartwatches and fitness trackers have evolved beyond basic activity monitoring. With AI capabilities, they can analyze data like heart rate, sleep patterns, and exercise routines to provide personalized health insights, real-time coaching, and even detect anomalies or potential health risks.
Augmented Reality (AR) Glasses: AR glasses equipped with AI technology are transforming the way we interact with the world. By overlaying digital information onto the user's field of view, these devices can provide contextual information, navigation assistance, language translation, and immersive gaming experiences. AI algorithms enable object recognition, gesture control, and voice commands, enhancing user interactions.
Smart Clothing: AI-enabled smart clothing incorporates sensors and embedded technology to collect data on body movement, posture, and biometrics. This data can be analyzed in real-time to provide feedback on athletic performance, monitor rehabilitation progress, or even detect potential health issues.
Hearables: Hearables are AI-powered devices that combine the functionality of headphones with smart features. They can provide personalized audio experiences, noise cancellation, real-time language translation, and voice assistants, making them ideal for communication, entertainment, and productivity.
Healthcare Wearables: AI-powered healthcare wearables are revolutionizing patient monitoring and care. These devices can track vital signs, medication adherence, and symptom patterns, alerting healthcare providers to potential issues. They enable remote patient monitoring, early detection of diseases, and personalized treatment plans.
Which Wearable is Right ?
Purpose: Identify the primary purpose of the wearable device. Are you looking for fitness tracking, health monitoring, communication, productivity, or entertainment?
Features and Functionality: Assess the features and functionalities that are important to you. Do you need GPS tracking, heart rate monitoring, sleep analysis, waterproofing, voice control, or specific health metrics?
Compatibility: Check the compatibility of the wearable device with your smartphone or other devices. Ensure that it supports the operating system and features you require.
Design and Comfort: Consider the design and comfort of the device, as you'll likely be wearing it for extended periods. Look for a design that suits your style and a comfortable fit for your wrist, head, or body.
Battery Life: Evaluate the battery life of the wearable device. Longer battery life is beneficial if you plan to use it throughout the day without frequent charging.
Ecosystem and Integration: Consider the ecosystem and integration options. Some wearables have a robust ecosystem of apps, services, and accessories that can enhance their functionality.
Budget: Set a budget for your wearable device. Prices can vary widely depending on the brand, features, and quality. Determine what you are willing to invest in a wearable device.
Reviews and Recommendations: Read reviews, seek recommendations, and research the experiences of other users to gain insights into the performance and reliability of the wearable device you are considering.
What Health Conditions Require a Wearable Device?
Fitness and Physical Activity: Wearable fitness trackers are widely used to monitor physical activity, including steps taken, calories burned, and distance traveled. They can be helpful for individuals aiming to improve their fitness levels or maintain an active lifestyle.
Heart Conditions: Wearable devices can monitor heart rate and provide insights into heart health. They can be particularly useful for individuals with conditions like arrhythmias, hypertension, or those recovering from heart-related procedures.
Sleep Disorders: Wearables with sleep tracking capabilities can monitor sleep patterns, including duration, quality, and stages of sleep. They can assist individuals with sleep disorders like insomnia or sleep apnea in understanding their sleep patterns and making necessary adjustments.
Chronic Disease Management: Certain wearable devices, such as continuous glucose monitors (CGMs) for diabetes management, can help individuals track their blood glucose levels and manage their condition effectively. Similarly, wearable devices can aid in monitoring conditions like asthma, chronic obstructive pulmonary disease (COPD), or epilepsy.
Stress and Mental Health: Some wearables offer features for stress management and mental well-being. They can monitor stress levels, provide relaxation techniques, and offer guided breathing exercises to help individuals manage stress and promote better mental health.
Falls and Elderly Care: Wearable devices with fall detection and emergency response features can be beneficial for the elderly or individuals at risk of falls. These devices can alert caregivers or emergency services in case of a fall or other emergencies.