According to Fact.MR, a market research and competitive intelligence provider, the global paronychia treatment market is anticipated to garner US$ 1 billion by 2033, increasing at 7.1% CAGR from 2023 to 2033.
A paronychia is a skin infection that surrounds a toe or fingernail. There are two forms of paronychia: acute and chronic. In acute paronychia, the skin infection develops quickly and lasts only a few days. This type of paronychia appears after skin breaks during a manicure or when an infection develops in an ingrown toenail. It is typically bacterial in nature, with staphylococcus aureus bacteria being the most common cause. Nevertheless, yeast, like candida, or germs from the cold sore virus, such as herpes simplex, can also be responsible for the disease.
Download Sample Copy of This Report:
https://www.factmr.com/connectus/sample?flag=S&rep_id=8469?AS 
Chronic paronychia develops gradually and may stay for several weeks. In such circumstances, the infection is caused by a confluence of microorganisms. A virus, such as herpes simplex, yeast like candida, and bacteria, such as Staphylococcus aureus, can be found in chronic paronychia. The condition is widespread in those who work in environments where their hands are continually exposed to water, detergents, and chemicals. It has a proclivity to return even after treatment and cure. Fishermen, cleaners, and household women are more vulnerable to this condition.
Diabetes is becoming increasingly frequent in many parts of the world, which is expected to fuel market growth. Diabetic patients are at a higher risk of developing paronychia; thus, a rise in the prevalence of diabetes around the world can lead to an increase in paronychia disease. Moreover, it takes longer for diabetic patients to recover from paronychia than non-diabetic patients.
The bourgeoning geriatric population globally is another major factor projected to drive the demand for paronychia treatment. The immune system's functionality gradually declines with age. As a result, cognitive and physical changes in the elderly make them more vulnerable to diseases such as paronychia.
Key Takeaways from Market Study
The global paronychia treatment market amounted to US$ 500 million in 2023.
Worldwide demand for paronychia treatment is estimated to swell at a CAGR of 7.1% during the forecast period (2023 to 2033).
The paronychia treatment market is set to reach US$ 1 billion by 2033.
North America is ruling the global paronychia treatment market.
"Growing elderly population and increasing prevalence of diabetes globally are the main factors expected to drive the global paronychia treatment market. Moreover, key market players are strongly focusing on research and development activities to develop new therapies for paronychia," says a Fact.MR analyst.
Market Titans
Glenmark Generics Ltd
GlaxoSmithKline plc
Eli Lilly Company
Teva Pharmaceutical Industries Ltd
Fougera Pharmaceuticals Inc
Jonakayem Pharma Formulation
Regional Analysis
North America is leading the global paronychia treatment market. The United States is witnessing substantial growth due to the increasing prevalence of chronic and acute paronychia. Asia Pacific is also experiencing considerable growth in the worldwide market due to the expanding elderly population in South Korea and Japan. Furthermore, Germany and the United Kingdom are significantly contributing to the regional market due to strong investments in healthcare.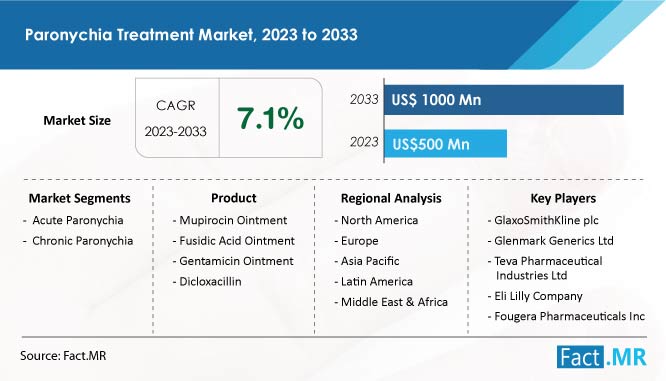 Industry Research
By Type :

Acute Paronychia
Chronic Paronychia

By Product :

Mupirocin Ointment
Fusidic Acid Ointment
Gentamicin Ointment
Dicloxacillin

By End User :

Hospitals & Clinics
Dermatology Centers

By Region :

North America
Latin America
Europe
Asia Pacific & China
Middle East & Africa
Key Questions Covered in the Paronychia Treatment Report
What will be the estimated size of the Paronychia Treatment in 2023?
At what rate will sales in the global Paronychia Treatment grow until 2033?
Which are the factors propelling the Paronychia Treatment  and in the Paronychia Treatment?
Which region will spearhead the growth in the global Paronychia Treatment during 2023-2033?
Which are the factors driving sales in the Paronychia Treatment during the forecast period?
More Valuable Insights on Offer
Fact.MR, in its new offering, presents an unbiased analysis of the global paronychia treatment market, presenting historical demand data (2018 to 2022) and forecast statistics for the period (2023 to 2033).
The study divulges essential insights on the market based on type (acute paronychia, chronic paronychia), product (mupirocin ointment, fusidic acid ointment, gentamicin ointment, dicloxacillin), and end user (hospitals & clinics, dermatology centers), across five major regions of the world (North America, Europe, Asia Pacific, Latin America, and MEA).
Contact:
US Sales Office :
11140 Rockville Pike
Suite 400
Rockville, MD 20852
United States
Tel: +1 (628) 251-1583
E-Mail: sales@factmr.com