As per this new study by Fact.MR, a provider of market research and competitive intelligence, the global non-lethal weapons market is expected to reach US$ 7.6 billion by 2033, expanding at a CAGR of 4.3% from 2023 to 2033.
The terms less-lethal, non-deadly, compliance, and pain-inducing are associated with non-lethal weapons. Military and law enforcement forces frequently employ non-lethal weapons to sustain law and order. These weapons are also less likely to harm a live target than conventional weapons like knives and firearms that fire live ammunition. Some groups use the term 'less-lethal' instead of 'non-lethal', as the former more accurately depicts the possibility of fatality compared to the latter, as non-lethal weapons may still cause significant harm or even result in death in certain circumstances.
Download Sample Copy of This Report:
https://www.factmr.com/connectus/sample?flag=S&rep_id=8480?AS 
Growth in civil unrest around the world as a result of various contentious rules and regulations enacted by governments everywhere has increased the demand for guns with little chance of fatality. The implementation of arms with lower risks of killing a suspect has been governed by laws made by human rights lawmakers and governments across numerous safety and defense organizations.
The use of non-lethal weapons for protection in a dangerous environment, such as electrical weapons, pepper spray, and batons, is a practical, economical, and legal option. Non-lethal weapons are also a vital component of the security personnel's protection. Non-lethal weapons also serve as the initial defensive barrier against an assault.
The global non-lethal weapons market is anticipated to grow during the forecast period due to the increasing number of innovations and advancements in weapon technologies.
For instance, Wrap Technologies published a video of a completed BolaWrap deployment in May 2021. The remote-restraint BolaWrap technology aids security personnel in neutralizing criminals without resorting to force. Contemporary non-lethal weapons lessen the necessity for tools that cause pain compliance or harm to a subject to control them.
Key Takeaways from Market Study
The market for non-lethal weapons is currently valued at US$ 4.95 billion.
From 2023 to 2033, demand for non-lethal weapons is anticipated to rise at a CAGR of 4.3%.
By the end of 2033, the global market is anticipated to reach US$ 7.6 billion.
Sales of direct contact weapons are expected to increase at a CAGR of 5.3% through 2033.
Demand for non-lethal weapons in China is predicted to increase at a CAGR of 5.6% through 2033.
"Increasing adoption of non-lethal weapons by law enforcement agencies in both developed and developing countries due to rising civil unrest is a key factor driving the expansion of this market," says a Fact.MR analyst.
| | |
| --- | --- |
| Report Attributes | Details |
| Market Size in 2022 | US$ 4.74 Billion |
| Estimated Market Value (2023) | US$ 4.95 Billion |
| Forecasted Market Value (2033) | US$ 7.6 Billion |
| Global Market Growth Rate (2023 to 2033) | 4.3% CAGR |
| No. of Pages | 170 Pages |
| No. of Tables | 84 Tables |
| No. of Figures | 112 Figures |
Winning Strategy
A small number of companies control the market for conventional non-lethal weapons. Governments provide funding and support to several local manufacturers who are capable of meeting short-term and long-term demand. These manufacturers cater to both lethal and non-lethal varieties of explosives and ammunition for the law enforcement and military sectors.
With a distribution network that is entirely local and subsidized by government finance and logistics, they can easily increase their focus on specific ammunition and ramp up production speed.
In 2022, PepperBall unveiled the brand-new PepperBall Patrol Carbine (PPC). Because it is weightless and requires dependable accuracy, the PPC presents police officers with a non-lethal choice that is seamless for standard patrol and strategic conditions.
Key Pioneers
Amtec Less-Lethal Systems, Inc.
Lamperd Less Lethal Inc.
United Tactical Systems, LLC
Nonlethal Technologies, Inc.
Armament Systems & Procedures Inc.
Axon Enterprise, Inc.
Combined Systems, Inc.
Mission Less Lethal Technologies
FN Herstal, S.A.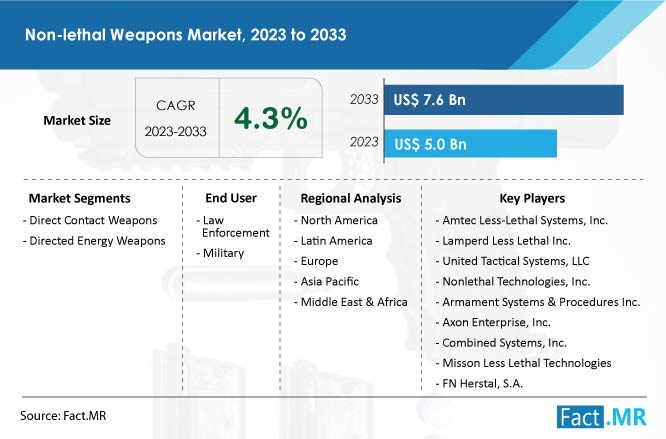 Industry Segmentation
By Type :

Direct-contact Weapons
Directed-energy Weapons

By Technology :

Electromagnetic
Mechanical and Kinetic
Chemicals
Others

By End User :

Law Enforcement Agencies
Military

By Region :

North America
Latin America
Europe
Asia Pacific
Middle East & Africa
Key Questions Covered in the Non-lethal weapons Report
What will be the estimated size of the Non-lethal weapons in 2023?
At what rate will sales in the global Non-lethal weapons grow until 2033?
Which are the factors propelling the Non-lethal weapons  and in the Non-lethal weapons?
Which region will spearhead the growth in the global Non-lethal weapons during 2023-2033?
Which are the factors driving sales in the Non-lethal weapons during the forecast period?
More Valuable Insights on Offer
Fact.MR, in its new offering, presents an unbiased analysis of the global non-lethal weapons market, presenting historical demand data from 2018 to 2022 and forecast statistics for 2023 to 2033.
The study divulges essential insights on the market based on type (direct-contact weapons, directed-energy weapons), technology (electromagnetic, mechanical & kinetic, chemicals, others), and end user (law enforcement, military), across five major regions of the world (North America, Europe, Asia Pacific, Latin America, and the Middle East & Africa).
Contact:
US Sales Office :
11140 Rockville Pike
Suite 400
Rockville, MD 20852
United States
Tel: +1 (628) 251-1583
E-Mail: sales@factmr.com